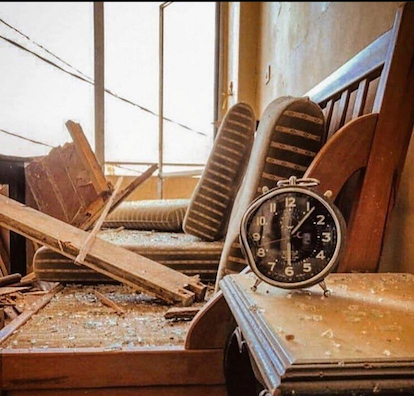 Introduction
For this first chapter of Life Worth Living, entitled Ethics of Estrangement, we begin by publishing a transcript of the public forum: The place from which one speaks: A Conversation with Latipa (neé Michelle Dizon) & Heather M. O'Brien, moderated by Juli Carson. The forum was staged as part of Beirut Lab 1975(2020), also curated by Carson, which was an experimental film program/installation featuring a rotation of 30 films screened five days a week, over the course of ten weeks. Each day's grouping–-a curatorial essay of individual film-essays–-pondered the imbricated questions: When in Time is Beirut? Where in Beirut is Time? Beirut Lab: 1975(2020) continued a previous exhibition's thematic also curated by Carson, entitled again, rubbed smooth, a moment in time__caesura, mounted at the American University of Beirut, in Spring, 2019. (Website: againrubbedsmooth.org). Much has happened in what's since been coined as "the gap year" between then and now. Accordingly, Carson has provided an afterword statement of reflection, updating the stakes and terms of the forum's discussion.
Juli Carson: What distinguishes all of Latipa and Heather M. O'Brien's respective artworks is the manner in which their critical edge dovetails seamlessly with their aesthetic acumen. In this case, the aesthetic at hand is the filmic essay form, which they have both occupied, untangled, and deconstructed. We will be addressing this form this afternoon.
Latipa: Thank you all for being here today. We are so pleased to share our work with you and to also learn from you this afternoon. We are going to begin by screening our two works and move into a dialogue between me and Heather and then open up the floor to a larger dialogue between all of us.
Heather M. O'Brien: Thank you Juli for the introduction, to UCI for hosting us, and to everyone joining us today. We'll start with screening my film, dyad gaze, which was completed earlier this year in Beirut, Lebanon. Latipa and I thought that after screening the films we could discuss some of the current political and historical contexts in the Middle East. For now, I will offer some backstory on my film. I moved to Beirut in 2016 for a teaching position in the Department of Fine Arts and Art History at The American University of Beirut (AUB). The film is mostly shot in my neighborhood of Caracas in Ras Beirut, and the subject of the film is a former student, Noor Tannir. The work comes out of a myriad of conversations that Noor and I have had in various contexts. Noor studied art and philosophy at AUB and made a short video piece called Power Cut that was screened alongside dyad gaze at the Sursock Museum, in February 2019, as part of a project and program that Juli was also involved with, titled Double Helix, which explored the ruminations of the essay film. That opportunity to screen the two works, with Noor present as both a subject and as a speaker, seems important to mention, as 'the place from which one speaks' is an issue we will discuss at length today–-for example, what is subject, who has the right to speak, and/or how is the speaking done. I believe the students in the room from Juli's course, "Critical Aesthetics," read Trinh T. Minh-ha's piece, Speaking Nearby in preparation for our session today. We really hope for this to be an interactive and reciprocal space, so please feel free to ask questions at any time.
Latipa: I began production on my film, Gaza Before the Law, in 2014 and didn't finish it until the beginning of this year, so it has been a long time in the process. Basically, it's a film that follows Akram Abousharar who is a Palestinian-American lawyer based here in Orange County. In 2014, after the Israeli siege of Gaza, Akram filed a lawsuit against the U.S. government based on a 1961 Foreign Assistance Act, and that Act says that the U.S. cannot give money to any government that is committing a human rights violation. He sued the U.S. government for giving aid to Israel during that moment in time. On the one hand, it follows Akram in that moment of moving through the lawsuit, while it also deals with the inability of the U.S. legal system to offer justice in matters of Palestine.
L: Heather and I will go into a little bit of conversation together, but of course we invite you to enter in at any moment, to address any questions you may have. We would really like to open up and have a good amount of time for robust conversation as well.
HOB: I feel honored to be here alongside Latipa who has shaped the way I think about artwork, politics and what it means to live as an American in the Middle East in this contemporary moment. Latipa and I worked together in a number of different courses from 2011-2013 at CalArts, in Latipa's courses titled, "Visualities and the Alterglobal," "The Work of War in Times of Art," and "Feminism in Translation." So, this event arises out of a conversation that has been going on for some time, and issues that come up in the films come from a place that is quite deep in terms of pedagogy, practice, and ethics. Michelle and I met prior to today and came up with initial words and ideas that connect the two films, so perhaps I'll start by calling those into the room: history, memory, domestic space, the role of the camera, privilege of mobility, speaking, the politics of address, place, testimony, speaking nearby. And then there are some more disparate issues which we can also discuss.
L: It might be helpful for you all to hear some of the process and the way in which Heather and I both got to making the films you watched today. In my case, I'm Filipina born here in the United States, and I have been staying lately that being born in the "belly of the beast" means many things. A lot of the discourse that surrounds immigration is often positive, there's not that much space to talk about all the negative, and a lot of that negativity, especially for second generation immigrants, is about a loss. A loss of culture, a loss of language, an inability to have the language to describe the kind of trauma that family members are going through over the course of that migration, on and on. My practice has been deeply shaped by that experience. And part of that experience was a logic of assimilation that is part and parcel of the immigrant experience, especially for the second generation, and yet, that assimilation is premised on a notion of forgetting where you come from. For me, the idea of memory has been a struggle through which I've been engaged in every single project that I've been involved with since I began making art. In 2008, that struggle for memory actually brought me back to the Philippines, after a decade of having been there when I first graduated from college, when I was maybe the age of some of you here. That return to the Philippines was one that was really driven by the desire to understand what was happening in the Philippines within the politics of globalization. That experience urged me to get to know activists involved in grassroots movements in the Philippines, which was a long process of gaining trust and moving through spaces with them that were deeply affected by an ongoing U.S. neocolonialism. The way that gets expressed is in places around the former U.S. military bases, where it is still an ongoing site of "rest and recreation." For example, U.S. submarines that are moving through the area. During the high point of U.S. occupation in the Philippines there were 16,000 Filipina prostitutes around the former U.S. military bases, so there is a long genealogy where Filipina women are portrayed and treated within U.S. discourse as a site of sexual availability. I traveled to places like the Dole plantation in the Southern island of Mindanao where my family is from, which has egregious human rights violations and extrajudicial killings of labor organizers. So, I was walking into spaces that were really at the heart of the vulnerabilities that people are experiencing in our contemporary world, and where I was also exposed to a practice of activism where people are giving absolutely everything to change the conditions they are living in. To be an activist in the Philippines is to risk your life at every turn. So, I hold that with me as an ethics of practice and a site of learning that drives everything I do, and definitely informs my entry into the Gaza project which you watched today. It began for me when I heard that same interview with Sonali Kolhatkar on the radio. I was driving to work and I heard Akram talking about this lawsuit that he was about to file. Given the research I'd been doing and where I come from, it moved me very deeply to hear him and to hear, on the one hand, this pain of what it means to experience the vulnerability of your family members from afar and the inability to help in any way. And so, this diaspora story was one that spoke to me. In addition, this way in which the U.S. has its hands all over the world and is wreaking havoc and killing people with absolute immunity. That legacy is something I heard Akram speaking directly to and I wanted to engage with. It was from that interview that I contacted him and began trying to establish a relationship. From the first conversation we had in his law office, which you saw represented in the film, I came to learn that he was just about to go to Gaza. That urged me to ask him to bring a camera with him. He said, "I don't know how to shoot," and I said, "I'll teach you." So, I got a portable Sony camera for him to bring with him, which was a light camera for journalism, and he brought it, but when he came back the images had no sound. He had accidently turned a switch so there was no sound for any of the footage. This was a whole technical issue that I think actually produced a whole challenge for me as a filmmaker as to how to work with that, and at the end of the day it was a productive challenge, it lends itself to much of the affect that is generated in the film. A lot of the conversation you hear between us is us going over the footage. One of the things I really took with me in those conversations was him describing the extreme visceral bodily reaction he had to being back in Gaza after so many years, and being out and about trying to film. He had actually gone out to film with a professional photojournalist, but the way that he shot was different since he was a still photographer not a moving-image photographer. It was very pointed and zoomed in on certain things. At the end of the day I was more interested in the subjective camera that Akram's eye had, but also in trying to communicate that viscerality, that very bodily reaction that he described to me of being so ill of being back in the space he grew up and seeing it so completely destroyed.
HOB: Something that stood out for me is the relationship between the intimacy of the home space that Akram is shooting and the destruction outside. How did that progress for you as a filmmaker, in terms of the editing, was Akram open to sharing the personal images and how did that conversation go? I was also wondering about the connection the film has with the Boycott Divestment Sanctions campaign and how that relates to the politics of solidarity.
L: Those images of home in Gaza were not necessarily meant for the film that we were making together. They were meant for him to show his wife or her family saying "hi." This brings up a very important part of the experience of working on this film, and I think it happens in many situations where people feel like their communities aren't properly represented. The desire is for that representation to be positive, or celebratory, or in this case, the image that Akram had of what it meant to make a documentary film about Gaza was to show the violence, to show the siege, to show the bombing, to show mutilated bodies, to show that kind of graphic image that we are very familiar with from everyday photojournalism. So when he saw the cut of the film he said that it needed that graphic image, which made for an interesting moment of negotiation to understand where both of us were coming from. But in terms of the intimate spaces, there is the intimate space of the home life in Gaza, which as I mentioned was not necessarily meant for this film, but also there is the intimate space of the law firm, Orange County, which is totally family run and an immigration law firm, and where all kinds of everyday life happens, such as the baby that comes to work and rocks in the rocker all day long while Mom and Dad are working. So there's the way in which these larger political histories are deeply grounded in everyday intimacies, and I thought that was very important to show and to create a structural principle in the film that it goes back and forth between the ruins, the intimate spaces, and then the back and forth between the judge and the plaintiff. I would love to hear more about your process of making dyad gaze.
HOB: My process was also very slow. I moved to Lebanon in 2016. To offer some background, I moved there with the conditioning of being born in the U.S. and raised under the rhetoric of a post-9/11 image landscape––seeing constant images of bombing, destruction, death, in a very fast paced manner. As a side note, something I really appreciated about Latipa's film is its slowness, so even though we're seeing destruction, we're having to read these texts, sitting in silence while having to think deeply about the trial. The first year I was in Lebanon I didn't pick up a camera. I was very dedicated to my job, and I wasn't comfortable making any images on the street. I met Noor when she was a student in one of my Video Art courses but we didn't start the project until after she had graduated. It was really important that I had time and numerous conversations with Noor inside and outside the classroom before I brought out the camera. We were able to build a sincere trust between us, and because it is such an intimate portrait of her, that was essential. The reason I use the word dyad in the title is because it's also a portrait of me looking at the city. There is a duality in terms of where the work stems from. Something I think about a lot is how the camera can actually be a voice. In relation to my own ethics, it was important for me to not have my audible voice in the film, so that Noor's voice comes through as the primary speaking voice, and my voice comes through in the editing and through the camera positioning. Slowness was also important to me, having to rest with these everyday moments of the curtain moving in the light and the wind. It's also not the normal shots we see of Beirut, especially when compared to what was shown in the West in the 1970s and 80s during the Civil War. It's important to have the film screened within the context of this exhibition, in relationship to many of the other works, some of which are more historical in nature. I was here the other day and watched an amazing Al Jazeera documentary about The American University of Beirut where I teach. It's very timely the way Juli has put this together in terms thinking through the different approaches to filmmaking and the various tactics, and the numerous ways of showing Beirut.
JC: There's the dyad gaze, where I look at you, you look at me, and that's operative in both of your films and subject. But now in this space I'm interested in the dyad gaze of your films looking at each other. The way that the screen between these gazes––the imaginary "screen" that is mediating the films––mirrors the screen-gaze that plays out within your respective film subjects. I'm going to offer a theoretical proposition here: Jean-François Lyotard's notion of the Differend. The Differend was something he conceived specifically around the impossibility of litigating the Holocaust, but it became a larger problem, a larger question, that is highly relevant today, whereby the subject––and we see this clearly in Latipa's film––is the plaintiff who perceives himself to be a victim because he is a victim. And, accordingly, as a plaintiff he sues the system, thereby putting the system in the position of defense. But the Differend is the impossibility of winning such a case because the court doesn't recognize the terms by which the plaintiff's case itself can be spoken, which is to say, that it can have happened. And that's what we have here, when the judge says, "I hear you, but we can't complete the hearing in way to find the judgement that you would like…we can't adjudicate this in your favor because what you want, what you want to do, is not the legal system that we're defined by." But what Akram wanted to say was that "this system and this government is responsible for killing my family." The Differend is the impossibility of legally finding anything except for the court throwing your case out because it challenges the very terms of the legal system that you are relying on to help you. Shifting to the 'dyad gaze' in Heather's film, around two thirds in when Noor is talking about the Symbolic Law of the Father, we encounter a kind of counterpart Imaginary Law of the Mother––that maternal gaze that presides over the mother-child dyad. In this way, the mother in Heather's film takes on a similar role to that of the judge in Latipa's film when she says "you have to get married, even though I respect what you're doing." From this utterance there follows a kind of imprisonment for both the mother and daughter, whereby a Differend is initiated by the Mother-as-Judge (in accordance with the Law of the Father), in which Noor is paradoxically aiming at liberation by way of having her case heard as a theoretical proposition that can reach no realistic possibility. If we pivot from Beirut cultural norms back to Gaza law––the dyad nature of the gaze being a hall of mirrors, so it goes back and forth––then this Beiruti domestic scene finds its counterpart in Gaza, where the plaintiff's home is literally his law office. So there's the beautiful duet between the films regarding these two subjects: the Differend (the world is for us even though we can't try our case in it) and "the personal and the political" (the domestic is the legislative). From there, you start to better understand the larger dyad gaze, so to speak, between Beirut and Gaza, which is to say, the manner in which each nation secures their respective phallocentric phantom of the lurking Father figure.
L: The law as parallel with notions of property is part and parcel of the whole problem. One other link I would bring up is Franz Fanon, in Wretched of the Earth, who, in writing about the experience of the colonial world, calls it a world without spaciousness. And I was really struck by watching your film, Heather, with the way the camera looks at the world is all about spaciousness. Whether that is a stunning vast sunset with waves crashing over, or this leaf trembling in the wind, or the time you give to a little bird… and those kinds of shots, for me it brings up, and this folds back into the whole idea of the essay film…there is a film by Chris Marker called Grin without a cat and right in the middle of the film there is a moment when he asks, "why sometimes do images begin to tremble?" And the whole film is talking about left movements for a decade after '68. But I was really struck watching your shots, Heather, because it's all about the world as it's trembling. And that trembling world, for me, is a potentiality that I also very much feel in Noor––the way the she's making space for herself, and you feel that in her wisdom and her perspective on the way she lives and the way she can see things, and the ways in which she might be closed into a little box, she's just opening it up, and your images also allow that to happen. It folds back into the question of what are the images we see of Beirut? What are the images we see of Gaza? We see people dying all the time, and so for us to see this subjectivity of a young woman so full of life and longing and desire and intelligence in the midst of these quiet moments at home and the light falling on her face in a particular way are a stunning intervention in that norm.
HOB: Thank you for that. I did struggle with notions of beauty, that was a question for me, and romanticism…
JC: And from your background, with whom you studied [Allan Sekula, Martha Rosler], the picturesque was always a lurking "no-no." Because the picturesque can do violence. But that beauty is the place of refuge in these places. And having lived in Beirut, myself, I can relate to that; I have a whole different relationship to the concept of the sunset. Growing up in Southern California, a teacher once said there's three things you're not allowed to paint: no windmills, no sunsets, no crucifixes. But when you're in another place the whole "no-no" of the picturesque becomes a very privileged Western concept.
HOB: It makes me think about Ariella Azoulay's The Civil Contract of Photography, and this notion of when to look, and when must we look. In her book she is talking about looking at violence, and how there are moments when we can't turn away from violence. But for me it is also equally important to show the moments of refuge and beauty in places like Beirut. And even if we don't feel we have the accountability to speak on injustice, we must speak, because it's such an urgent crisis. So, it's speaking, but also considering the place from which one speaks, both in terms of ethics and immediacy.
L: Right before this Heather and I met to discuss how we were going to organize this conversation. And both of us premised this with saying, "I don't know enough about Palestine or Lebanon and the long, long histories that exist there." And yet here we both are, having made films that are ostensibly about some aspect, or sitting nearby these long political histories. This brings up the question of who is a proper subject to speak. Before coming here today I was going over some recent events in Gaza and understanding the depth of contemporary violence which makes it absolutely urgent for us to learn about the issues. I position myself as a learner in the midst of all of this. And it's necessary to bring into the room the names of Ali Al-Ashqarand and Khaled Al-Rabai who were killed on September 6th, two out of 50 children killed in Gaza. There have been 200 people killed so far since March 2018, and there have been weekly protests at the Israeli border, called The Great March of Return. There have also been 9,000 people who have been injured since March 2018. People dealing with gun wounds down to the bone, causing infection, and also dealing with bodily resistance to antibiotics. All of this coupled with the slow death that people in Gaza are experiencing makes it absolutely urgent for all of to become learners if we aren't already. At the end of the day, it is U.S. dollars that is funding this continued killing in another part of the world, which is our part of the world as well.
Moderator's Afterword
In Peter Weiss's play The Persecution and Assassination of Jean-Paul Marat as Performed by the Inmates of the Asylum of Charenton under the Direction of the Marquis de Sade (1965), the assassin Charlotte Corday decries the literal death drive beating at the heart of the French Revolution's aim for national liberté, égalité, fraternité. For the city of Paris in 1793 had become overrun with the business of mass incarceration of political heretics, followed by the public spectacle of their execution. It was a dark libidinal machine from which no one was immune:
Now they talk of people as gardeners talk of
leaves for burning
Their names are crossed off the top of a list
And as the list grows shorter
More names are added at the bottom
I stood with them
And we waited
For our own names to be called
I have read and reread Weiss's play since I first encountered it in 1980. Over the years, Corday's warning has rung differently in my ears, given the different traumatic backdrops against which I encountered it. In 2001, I heard her voice in tandem with Jacques Derrida's discussion of the Enlightenment's "autoimmunity," which the "event" of September 11 revealed to us. In Philosophy in a Time of Terror: Dialogues with Jürgen Habermas and Jacques Derrida, edited by Giovanna Borradori, Derrida notes that the "terrorism" we perceive as coming from without is one that has always lied within the Western tradition: from Thomas Hobbes to Carl Schmitt and even to Walter Benjamin. "To be sure," Derrida reminded, "the political history of the word 'terrorism' is derived in large part from a reference to the Reign of Terror during the French Revolution, a terror that was carried out in the name of the state and that in fact presupposed a legal monopoly on violence." Accordingly, the root of the terror hitting the towers on September 11 was not Saudi derived alone. Rather it was a boomerang effect of the auto-immune disorder of the Enlightenment's original sin: colonialism.
In the American Autumn of 2020, against the backdrop of Trump's cultural wasteland––one littered with ICE Internment Camps, a runaway pandemic body count, a government backed voter suppression campaign, and threats of martial law over blue state "anarchistic jurisdictions"––the "violence without" has never more transparently shown itself to be "violence within." In response, the estrangement of the majority from the minority that imposes this violence upon it may be the symptom, but ethics is the prognosis. Such that, in the American Autumn, to appropriate Corday's words once again: As more names are added at the bottom of the list, we will stand with them. And wait for our own names to be called. Meanwhile, we will write, we will talk, we will make art as subjects among subjects, as others among others. Simply, we will counteract the beat of this country's death drive with the blazing light of a counter life drive.
Juli Carson, Irvine, October 2020